How Switching to Digital Benefits Your Business
A Company Secretary, or CoSec, is responsible for maintaining the record of all statutory documents of a company and taking care of its compliance requirements. It is a very important function. In Malaysia, it is a mandatory requirement under the Companies Act 2016 to appoint a Company Secretary within 30 days of incorporation. Selecting the right Company Secretary is vital to ensuring proper corporate governance of a company.
Some key responsibilities of a CoSec are:
Ensuring that the company is compliant with legislation as stated in the Companies Act
Handling the company's board and general meetings
Maintaining share registration and safe keeping of documents
Advising the board on proper corporate governance matters
Filing statutory documents with authorities
Digital Company Secretary vs Traditional Company Secretary
"Less paperwork, faster turnaround times, improved efficiency: working with a Digital CoSec is the smarter way of doing business."
Digitalisation has redefined the role of Company Secretaries, making Digital Company Secretaries the preferred choice over Traditional Company Secretaries, especially for businesses that want to leverage technology to improve their business processes.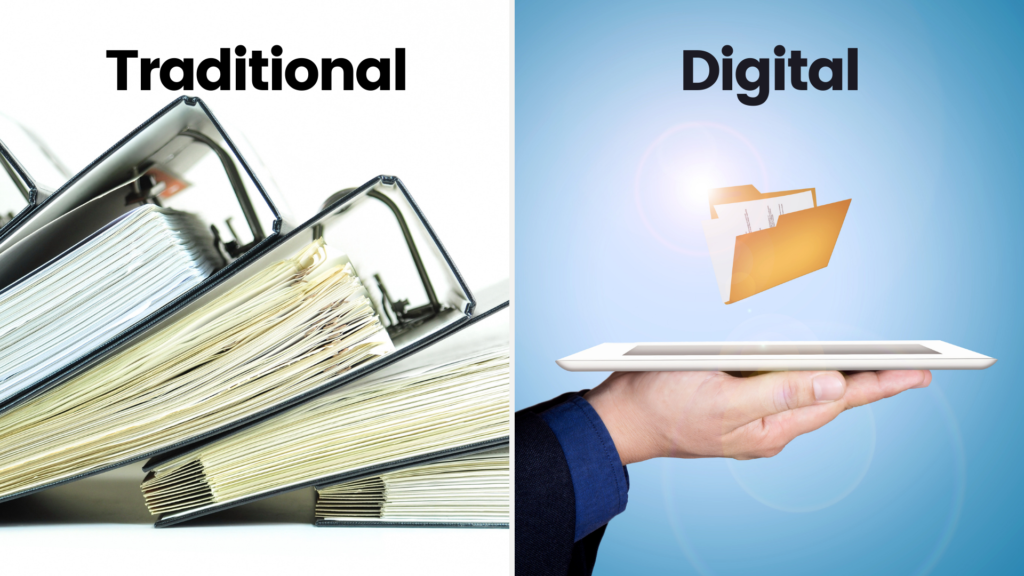 | | Digital CoSec | Traditional CoSec |
| --- | --- | --- |
| Communication | Make requests with just a few clicks via mobile or desktop | Make requests by phone or email |
| Access to records | Access to your company records and documents at anytime, anywhere | Monday-Friday; during official working hours of the secretarial firm |
| Customer Support | Quick response times | Monday-Friday; during official working hours of the secretarial firm |
| Pricing | Transparent pricing, no hidden fees | Possible surcharges and add-on charges |
| Process | Paperless | Manual paperwork |
In today's evolving company regulatory environment and speed of change in the way we conduct business, it is imperative for companies to be able to access their information quickly.
Traditionally, Company Secretaries operate out of brick-and-mortar offices, meaning they are only available during office hours by phone or email. Just accessing a simple document such as a copy of your business registration certificate can typically mean a significant wait time of several days before you receive it.
While Traditional Company Secretaries use manual processes, Digital Company Secretaries leverage technology to streamline their operations, providing improved time- and cost-efficiencies to clients. Less paperwork, faster turnaround times, minimised risk of human error, and improved efficiency – these are all key reasons why using a Digital Company Secretary is better for businesses.
Benefits of Going Digital
1. Instant access, better efficiency
Digital Company Secretaries have redefined the Traditional Company Secretarial offering by digitising processes to deliver improved service over an online platform. This extends to storing records in a secure online portal, making access to corporate documents much easier and faster: everything is available with a few clicks, for both the client and the Digital CoSec account executive.
Alerts can be sent to the client to advise on upcoming deadlines or actions required, such as approval of a document or the requirement for a digital signature. This means you can get help from your Company Secretary without getting caught up in an endless loop of emails or phone calls. And, going paperless and using digital signatures has also significantly improved the processing time needed to incorporate a company.
2. Transparent pricing
Digital Company Secretaries generally follow a software-as-a-service (Saas) model, with different pricing packages, such as a one-time fee for mandatory services and a subscription fee package for additional services. A detailed breakdown is also provided to avoid surprises each time an invoice is issued.
The retainer fee charged by a Traditional Company Secretary however usually excludes fees for printing, certified-true-copies, board resolutions, etc. The final invoice may therefore include unexpected surcharges or add-ons.
3. Better communication
With Digital CoSec services, technology makes for more open communication with the company's stakeholders. Video conferencing and virtual meetings enable more regular contact and better collaboration with clients. This also minimises the touchpoints and saves time from having to attend face-to-face meetings.
Switch to Digital
Compliance should not be a burden: let us help you while you focus on what matters in growing your business. Whether you are a start-up or a company planning to go public, choosing the right Company Secretary is a very important decision. Quadrant Biz Solutions offers Digital Company Secretarial Services for Start-ups, SMEs and MNCs. Contact our team today to find out more about our promotions and packages.
Switch to digital: you know it makes sense!