A start-up accelerator is a support programme designed specifically for early-stage, growth-driven start-ups. It involves the participation of a small team of founders per start-up and it typically adds value to the company via validation of ideas, validation of market, or validation of growth.
Most start-ups enter into an accelerator programme for three main reasons:
Access to capital
Mentorship from successful entrepreneurs and investors
Networking opportunities with peers and industry leaders
It is a cohort-based support programme that runs for a fixed duration, typically between three to six months. At the end of the programme for each cohort, participants are given the opportunity to pitch their ideas on Demo Day to investors.
Here we introduce you to some of the available government and private sector accelerator programmes in Malaysia:
Government Start-up Accelerators in Malaysia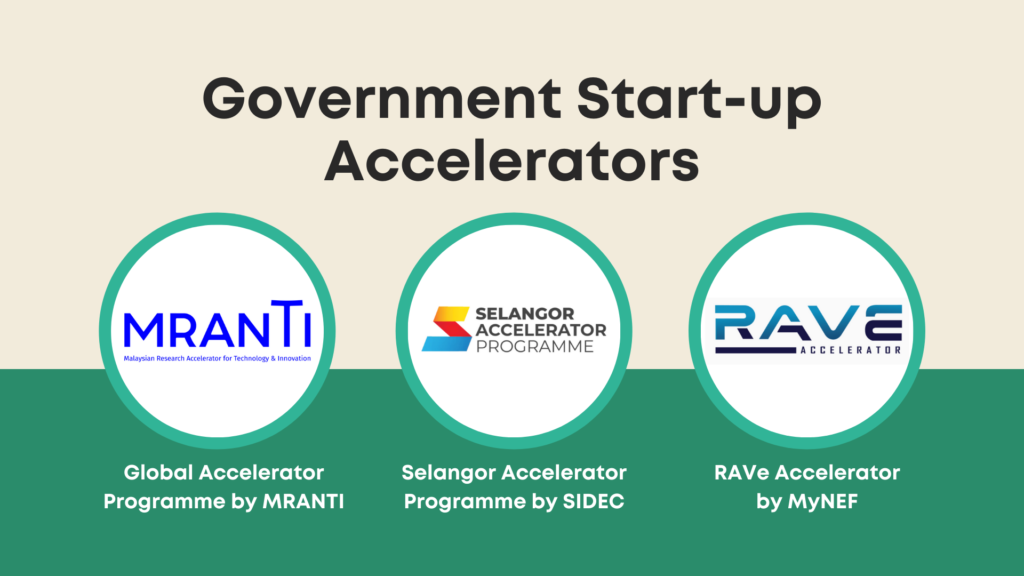 1. Global Accelerator Programme (GAP) by Malaysian Research Accelerator for Technology & Innovation (MRANTI)
GAP by MRANTI is a government-funded Accelerator Programme tailored for both local and international start-ups with an ambition to expand in the ASEAN market. It is a 2-month thematic Accelerator that focuses on expediting the growth of companies to scale and commercialise products and services by being investment-ready.
Requirements to join:
Highly scalable start-up with a strong business model
Start-up that is looking to expand in the ASEAN region
Incorporated as a Sdn Bhd/Pte Ltd and in operation for more than 1 year
With a team of 2-3 members who must be fully committed during the Programme
The Programme will run from August 2022 to October 2022.
Applications are open from 1st April 2022 until 1st May 2022. Submit your application here today!
*Application status will be informed to all applicants by July 2022.
2. Selangor Accelerator Programme by SIDEC
The Selangor Accelerator Programme (SAP) is a structured 4-month scheme, organised by SIDEC (Selangor Information Technology & Digital Economy Corporation) under the Selangor Government. It aims to assist start-ups in the early stage that have not undergone Series A funding.
SAP offers mentorship and training from industry experts and veteran entrepreneurs, connecting participants to a network of Angel Investors and Venture Capitalists, as well as providing opportunities for participants to undertake a fully-funded study trip abroad. On the final Demo Day, participating start-ups will get the chance to pitch their business ideas in front of reputable investors.
Requirements to join:
Early-stage Malaysian start-up (pre-seed or seed)
Incorporated for less than 3 years in Malaysia
Have a Minimum Viable Product (MVP) or a beta version of the product ready
For further information, visit their website or contact SIDEC at +603-5521 8580 or email info@sidec.com.my.
3. RAVe Accelerator by MyNEF
RAVe Accelerator is a 12-week intensive Accelerator Programme run by New Entrepreneurs Foundation (myNEF). The Programme focuses on creating a core catalyst for Bumiputera ICT Companies to drive and contribute to the growth of Malaysia's ICT industry. RAVe has curated an experienced pool of mentors and coaches to ensure that each venture that is accelerated is investor-ready at the end of the Programme.
For more information, visit their website or contact myNEF at +603-6145 0937 or admin@myNEF.com.
Private Sector Start-up Accelerators in Malaysia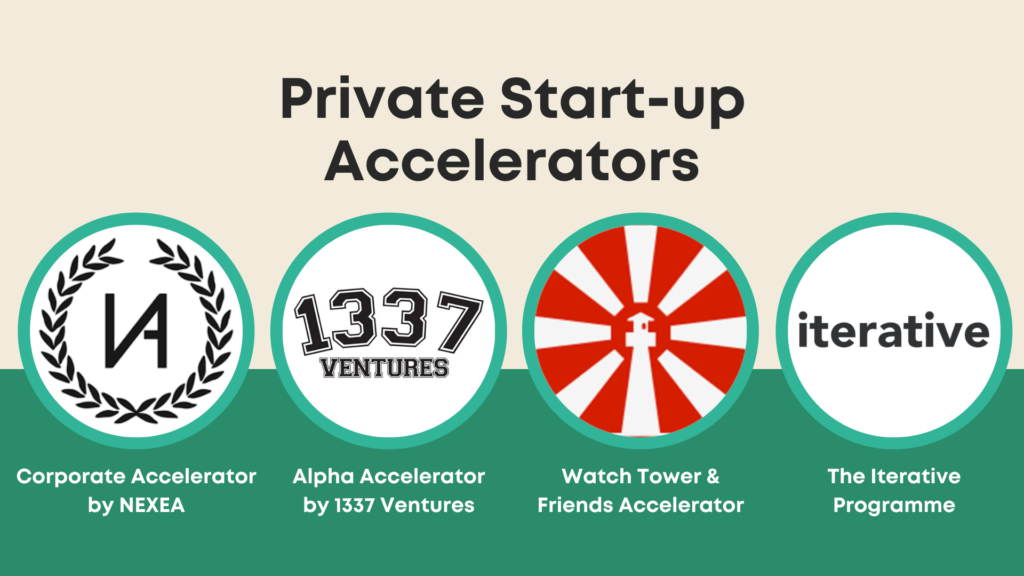 1. Corporate Accelerator by NEXEA
The Corporate Accelerator Programme is led by NEXEA and co-organised with leading start-up ecosystem partners in Malaysia. Having funded over 35 companies, the Programme offers investments, mentoring, grants, and government support to start-ups in Malaysia. It is backed by mentors who are former entrepreneurs, CEOs and industry experts. Many of these are also Angel Investors who want to contribute to the ecosystem and support these early stage companies..
Requirements to join:
Technology start-up with a scalable business model and able to grow exponentially in the long term
A Malaysia-based company
Of a disruptive nature and the solution provided should be 10x better (figuratively) than the current marketed solution
Have the potential to scale significantly in revenues in the span of 5-10 years
Duration: The Corporate Accelerator Programme typically runs in two phases for five months.
Phase 1: Selected start-ups are able to participate in orientation, mentoring sessions, various workshops, and pilot marketing. All the Phase 1 start-ups will participate in the final selection for the Phase 2 Programme.
Phase 2: All final selected start-ups will continue their mentoring sessions and participate in the Demo Day where there will be a final presentation with Angel Investors, Corporates and Media.
Start-ups that successfully receive investment during Phase 2 can expect funding of anything from RM50,000 up to RM 250,000. To find out more about the Corporate Accelerator, visit their website.
2. Alpha Accelerator by 1337 Ventures
1337 Ventures is a Venture Capital (VC) firm in Malaysia focused on early-stage start-ups. It organises a quarterly start-up Accelerator Programme called Alpha Start-ups, in collaboration with Leet Academy, to help early-stage start-ups find product-market fit. The Programme is a 10-day commitment spread over a 5-week period and consists of live webinars, self-paced learning sessions, and small group mentoring sessions.
1337 Ventures has an ongoing weekly pitch on Tuesdays consisting of a panel of mentors from 1337 Ventures, as well as members from its network of Angel Investors. Start-ups can get funded with up to RM50,000.
Requirements to join:
Technology- or innovation-enabled business at an early stage with a scalable business model and a high growth strategy
Must be based in Malaysia or serve the Malaysian market OR
Must have at least one Malaysian co-founder, regardless of the market served or geographic location
For further information, visit their website or contact them at +6011 5628 0817 or email info@1337.ventures.
3. WatchTower & Friends Accelerator
WatchTower & Friends is a Private Accelerator with a mission to grow successful start-ups into feasible businesses via two short programmes: SCALe and S5D.
SCALe (Start-up Campus Accelerator Lite) is a condensed 3-day Accelerator Programme, designed specifically for university and college students with a strong entrepreneurial mindset. Offered free of charge, the Programme aims to instil excitement to launch tech-related start-ups and to establish prospective entrepreneurs and ideas.
Start in 5 Days (S5D) is an intensive 5-day Programme for business starters or idea thinkers. Held over five productivity-focused days, seasoned entrepreneurs who have already experienced their start-up journeys and business coaches with proven success rates will lead participants through this immersive hands-on Programme that will prepare them for the challenging world of entrepreneurship.
The Programme aims to:
Confirm that the idea is bankable
Check participant entrepreneurship DNA
Identify specific start-up needs
Help build a business plan and perfect the investor pitch deck
For more information, contact WatchTower & Friends at accelerator@wtf.my.
4. Iterative
Iterative is a YC-styled accelerator fund focused on Southeast Asia. The fund was founded by co-founders of Decide.com (acquired by eBay) Hsu Ken Ooi and Brian Ma. Iterative runs a 3-month Accelerator Programme which aims to support start-ups in developing their ideas, connect with investors in Southeast Asia and Silicon Valley, and guide them in developing the ideal pitch that will resonate with investors.
Iterative funds companies in batches and each company receives US$150,000 in funding. The batch Programme runs twice a year on a rolling basis. Upon admission, the team will work closely with the start-ups to validate their ideas and execute growth strategies. Start-ups will also have access to a valuable network of mentors, peers and investors through a series of events and workshops. The Programme will culminate during a Demo Day, where start-ups present to a select audience to help kickstart their fundraising efforts.
The upcoming Iterative Summer Programme will kickstart from July to September 2022, and is now accepting applications. Start applying here.
Take your Start-up to the Next Level
In conclusion, the right Accelerator Programme can open many doors. However, not all Accelerators are created equal. Make sure you look for an Accelerator that best suits your business needs. There are more Accelerator Programmes available in Malaysia that you can look up, such as the recently launched Microsoft for Start-ups Founders Hub.
While you are busy preparing to join an Accelerator Programme, let Quadrant Biz Solutions help you with your company secretarial and other business services requirements. We can also help you incorporate your company with the Company Commissions of Malaysia (SSM) to speed up realising your business goals. Drop us a message here today!