In October 2019, the Companies Commission of Malaysia (SSM) introduced a new format of company registration number for all types of business entities. The new standardised format replaces the various different styles of registration numbers from previous systems and utilizes a single registration format for all business entities in the country.  This aligns with the Malaysian Government's Small & Medium Enterprises Master Plan 2012 – 2020 led by the Malaysian Administrative Modernisation & Management Planning Unit (MAMPU). The new format of registration number also imposes a limit on the number of business entities registered, which helps to simplify the system development compared to the old system. 
What is a company registration number?
A company registration number, sometimes known as company number or registration number, is a unique 12-digit number issued to each registered business entity. Each registration number is generated in sequence and follows a certain format, explained below:
The first four digits represent the year the business entity is incorporated,
The next two digits represent the type of business entity using the following codes,
| | |
| --- | --- |
| Code | Type of entity |
| 01 | Local companies |
| 02 | Foreign companies |
| 03 | Businesses |
| 04 | Local LLPs |
| 05 | Foreign LLPs |
| 06 | LLPs for Professional Practice |
The last six digits represent the sequence number of the business entity.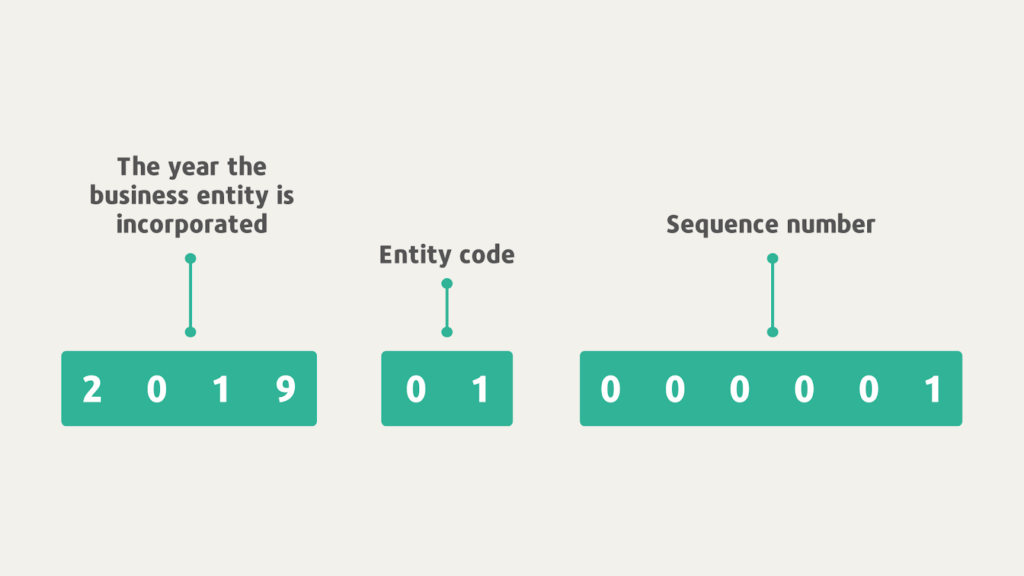 All registered companies, irrespective of incorporation date, have now been issued with a new format number. For those registered prior to the new system being introduced, it is quite common to see the new and old numbers displayed, for ease of reference, as shown below:
Company name: AMS Setia Jaya Sdn Bhd
Registration number: 201901000005 (1312525-A)
When do I need to use my company registration number?
The registration number can be used in official documents, such as official letters to authorities, invoices, signboards or other printed documents. The old registration number can continue to be used, but adoption of the new format number is highly recommended.
Who will receive a company registration number?
All business entities registered with SSM will receive a registration number, unique to each entity.
Where can I find my company registration number?
For newly incorporated business entities, the number can be found on the Superform (Section 14), the Notice of Registration (Section 15), and Certificate of Incorporation (Section 17 (Form 9)). For business entities registered via the previous registration system i.e. before 11 October 2019, the number can be found on SSM's portal via e-Search, e-info, and MyData services.
Who can I contact if I have further enquiries?
If you have any further information regarding your company registration number, you may contact SSM Contact Centre at 03-77214000 or email to enquiry@ssm.com.my or visit the SSM website.
Your company secretary can also help you identify your company registration number. We at Quadrant Biz Solutions provide company secretarial services as well as company incorporation services, and will be able to help you identify your company registration number in seconds! Contact us today!