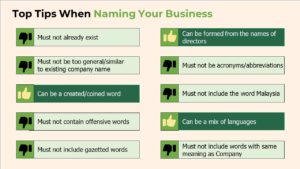 Choosing your business name is like naming your first child. It is a key milestone in the life-cycle of your company. The name you choose should be unique, pronounceable, readable and easy to remember. It is a very important part of your brand identity and should speak to your business characteristics and resonate with your target market.
Aside from all that, when choosing a name, you will need to follow the guidelines set by the Companies Commission of Malaysia (SSM) in order to obtain approval to use it.
Here are some do's and don'ts:
1 – The company name must not already exist
You cannot use an existing or reserved company name. Three quick tips:
Conduct a name search on the MYDATA portal or the SSM e-Infor portal to make sure that the name is available to use. Alternatively, have Quadrant Biz or your company secretary handle this task for you.
Check if your name has an available domain name so that you can seamlessly create your online presence post-incorporation.
If there is a particular name that you really want, you can reserve it for 30 days on the SSM portal while taking care of other business.
2 – The company name must not contain obscene/offensive words
SSM prohibits company names that are blasphemous or likely to be offensive to members of the public. Names that resemble or contain elements of religion are not permitted either.
3 – The company name must not include gazetted words
Certain words are gazetted and cannot be used unless approval is obtained from the relevant authorities. These are some categories of gazetted words:
Names suggesting a connection with members of the Royal family. For example – Royal, King, Queen, Prince, Princess, Crown, Regent, Imperial, or the Bahasa Melayu versions: Raja, Agong, Raja Muda, Putri, etc
Names suggesting a connection with a federal or state government. For example – Federal, State, National, etc.
Names suggesting a connection with a foreign government or international organization. For example – APEC, UNESCO, NATO, EU, WHO, etc.
Names suggesting a connection with any political party, society, trade union, co-operative society or building society
Names including the following words or any words of like import: "Bank", "Banker", "Banking", "Bumiputra", "Bureau", "Chamber of Commerce and Industry", "Chamber of Manufacturers", "Chartered", "College", "Consumer", "Council", "Credit", "Exchange", "Executor", "Fair Price", "Finance", "Foundation", "Fund", "Guarantee", "Institute", "Insurance", "Investment", "Leasing", "Made in Malaysia", "Prime" "Registry", "Treasury", "Trust", "Unit Trust", or "University" [and/or their Bahasa Melayu equivalents]
4 – The company name must not be too general or similar to an existing company name
Names which are too general, for example, 'Technology Sdn Bhd' or 'Construction Sdn Bhd' should be avoided.
Additionally, the symbol '&' is deemed to have the same meaning as the word 'and' or 'dan' and therefore your chosen name would not be approved if the only difference to another name is &, and or dan.
5 – The company name must not include words that have the same meaning as the word 'company'
The words 'Company', 'Co' or 'Syarikat' are prohibited from being used as part of a company name. The term Sdn Bhd will automatically be added as part of your company name. Hence, you do not need to include such words.
6 – The company name must not be an acronym/abbreviation
SSM prohibits anyone from using acronyms/abbreviations as their business name. Acronyms are only allowed for government agencies, higher education institutions, and multi-national companies – LHDN, KWSP, Petronas, UM, etc.
However, you can use a series of randomised letters in your company name, as long as the letters do not form an abbreviation. Examples would be: iCuClear Optical, RTek Design, etc
7 – The company name must not include the word 'Malaysia'
The word "Malaysia" or the name of a state in Malaysia at the beginning of the name is not allowed unless there is an interest of the Federal/State Government in the company or with the consent of the relevant party. Examples would be: Malaysia Brightstar Education Services, Melaka Digital Stream Solutions etc
8 – The company name can be a created/coined word
Where the proposed company name is a combination of existing words or is a 'coined' word, this may be considered by the Registrar provided that the meaning of such word[s] is given. For example:
Actify Meaning: to activate/bring to life
DigiVerse Meaning: Digitalise the universe/Digital Universe
InnoVention Meaning: Innovative Invention
9 – The company name can be a mix of languages
You can blend English and Malay or even foreign languages in your company name. The only condition is that you need to apply correct grammar and provide the meaning for any language other than English and Malay.
10 – The company name can be formed from the names of directors
The usage of individual names shall be from the names of the directors as per those stated in the company incorporation form. If the names of other individuals related to the directors are to be used, for example, the names of children, wife, father or mother, proof of the relationship must be given together with a consent letter.
Conclusion
SSM responses are quick – it will take 1-2 working days to receive the approval provided you've met the above criteria. Approved company names will be reserved for 30 days from the approval date. You will need to submit all your company registration documents within the 30-day period to complete the company incorporation process.
There are currently around 1,412,226 registered local companies in Malaysia. To ease your name search process and gain speedy approval from SSM, contact Quadrant Biz! Our team of knowledgeable consultants are ready to help you expedite the process. Contact us today and receive RM288 rebate on your company incorporation fees with our Chinese New Year promotion! [Valid until 7th February 2023 only]