As with any hiring process, there are laws and regulations that employers in Malaysia have to follow. The same applies when it comes to hiring expatriates. There are a number of reasons why you might be wanting to hire expatriates and these include ensuring technology transfer to your company, being able to give you a better understanding of foreign markets and encouraging diversity and cohesiveness in your team.
The next question is HOW?
At Quadrant Biz Solutions, we understand how daunting it might appear to easily navigate all the applicable employment laws and processes. So to help you with hiring expatriates, we have put together this step-by-step guideline:
(Note: Only applicable in West Malaysia, Sabah and Sarawak has a separate set of guidelines)
There are 4 Stages in the Whole Process:
Registration of your company with Expatriate Service Division (ESD) of the Immigration Department of Malaysia
Activation of your company account with ESD
Expatriate application via MYXpats CENTRE
Passport Endorsement & Collection at MYXpats CENTRE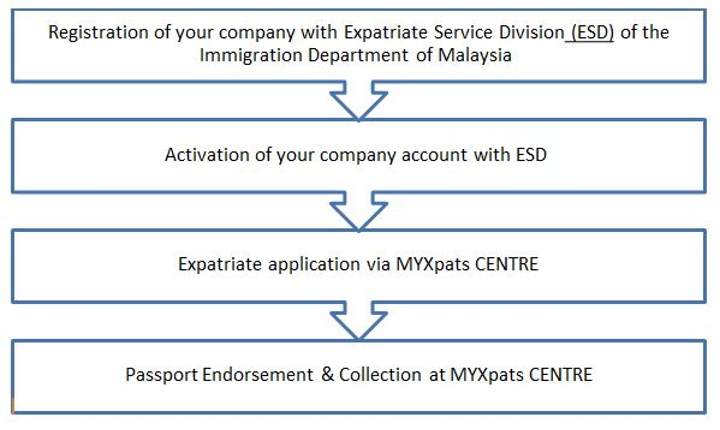 STEP 1: Registering Your Company
Your company must be eligible for registration (see below)
Prepare the documents (see below)
Go to https://esd.imi.gov.my/portal/ and register an account
You will need to:
1. Purchase a copy of your company's SSM info via ESD online;
2. Submit the requested information;
3. Enter your company's projection of expatriates required for the year
To be eligible, companies (1) must be registered with SSM OR ROS OR are ; firms incorporated under specific acts eg: Law firms and Accounting firms OR International organisations certified by the Ministry of Foreign Affairs. and (2) your company's paid up capital has to be:
EQUITY
PAID-UP CAPITAL
100% Local Owned
RM250,000
Joint Venture (minimum foreign equity is 30%)
RM350,000
100% Foreign Owned
RM500,000
Foreign owned companies (Foreign equity at 51% and above) running Wholesale, Retail and Trade (WRT) License is compulsory.
Refer to the Ministry of Domestic Trade, Co-operatives and Consumerism WRT license application guideline
RM1,000,000
Foreign-owned companies (foreign equity at 51% and above) involved in the sub sectors on unregulated services are required to refer to the Services Industry Division, Ministry of Domestic Trade, Co-operatives and Consumerism on the application guideline to obtain approval.
RM1,000,000
*Not applicable to public limited companies, companies limited by guarantee, associations & organisations incorporated under specific acts.
The Required Documents are:
Copy of all current company directors' MyKad / Passport as per SSM registration.
Comprehensive Company Profile (to include the following):
i. Background of the company
ii. Business activities
iii. Organisation structure
iv. Location of company / number of branches (branch address)
v. photo of the premise (front and interior)
vi. photo of the products / services offered
Copy of Company's Latest Phone Bill
Tenancy Agreement / Sales & Purchase Agreement (S&P)
Latest SSM Form 9 or Form 83A (any related documents)
Latest SSM Form 24 or Form 80A (any related documents)
Latest SSM Form 49 or Form 79 (any related documents)
Latest Audited Financial Report
Copy of Local Authorities Licence – Lesen Pihak Berkuasa Tempatan (PBT) (if applicable)
Other business licences (Refer to Annex A, or any other supporting documents)
Other documents specified upon request
For professional firms, you will need these additional documents:
Audit / Accounting Firms must submit latest SSM Form 5 accompanied by "Sijil Akuan Pendaftaran Firma Perunding" by Kementerian Kewangan Malaysia, and Legal Firm must provide letter from the Bar Council Malaysia.
For organisations registered under the Societies Act 1966, you will need to provide these additional documents:
List of committee members sponsor
Certificate of Registration under the Societies Act 1966 (Form 3)
Association of Constitution
Latest Annual Audited Returns
For association of sports bodies, you will need to provide these additional documents:
Certificate of Registration under Sports Development Act 1997 (Act 576) and Regulations.
Note: All SSM Forms (Form 5, Form 9, Form 24 and Form 49 must be certified true copies by the Companies Commission of Malaysia.)
STEP 2: Activating Your Account
You will receive notification via the ESD system
Approved companies need to schedule an appointment via the ESD online system (please check with ESD on the latest updates/changes due to COVID movement restriction measures)
Print a copy of the Letter of Understanding (LoU) from the ESD online system onto your company's official letterhead and fill in the required information
Verification and Signing of LoU.
One of the Director(s) of your company (whose name is stated in your company's SSM document) needs to physically go to ESD with his/her IC/Passport, and sign the LoU.
ESD, Headquarters
Level 3 (Podium) No 15, Persiaran Perdana, Precint 2, 62550 Putrajaya.
Tel: +603 8880 1449 Email: esdhelpdesk@imi.gov.my

Can someone else represent the Director for the submission of the LoU?
For local companies registered with SSM: No. A company Director has to be present for the submission of LoU.
For foreign companies registered with SSM: Yes. If all the directors are not in Malaysia, the company may produce Power of Attorney (POA) attested by registered and licensed solicitors in Malaysia.
Your company will then be granted access to submit expatriate applications
STEP 3: Expatriate Application via MYXpats CENTRE
There are 7 types of passes that you can apply for:
Employment Pass (Category I) – expatriate
Employment Pass (Category II) – expatriate
Employment Pass (Category III) – knowledge/skilled worker
Professional Visit Pass
Dependant Pass
Social Visit Pass (Long Term)
Visit Pass (Temporary Employment) – Coming Soon
STEP 4: Passport Endorsement & Collection at MYXpats CENTRE
Print the approval letter available online
Applicants (Expats) will have 30 days upon entering Malaysia to endorse the EP sticker
Walk-in to the MYXpats CENTRE and submit the relevant documents for endorsement (please check with MYXpats CENTRE on the latest updates/changes due to COVID movement restriction measures)

MYXpats Centre
Level 16, Surian Tower, No 1 Jalan PJU 7/3, Mutiara Damansara, 47810 Petaling Jaya, Selangor Darul Ehsan
Tel: +603 7839 7171 Email: helpdesk@myxpats.com.my
Documents Required During Endorsement:
Original passport
Copy of approval letter
Payment Receipt
DP11/DP11A Form with original company stamp and details of the appointed Endorser as per the LOU (signatory)
Payment of fees can be made at counter
Endorsed passport(s) can be collected within 3 working days
Additional Notes on Visa Application:
Visa application can be made at any nearest Malaysian Embassies and High Commissions Office Abroad OR through eVISA via https://windowmalaysia.my/ (Applicable for Tourist, Expatriate, Student and Medical Tourist from 10 countries: People's Republic of China (PRC), India, Pakistan, Nepal, Bangladesh, Sri Lanka, Myanmar, Bhutan, Serbia and Montenegro only).

If you have any queries, feel free to contact us for advice, we are always ready to assist! 
Follow us on Facebook, and Linkedin for more useful articles!