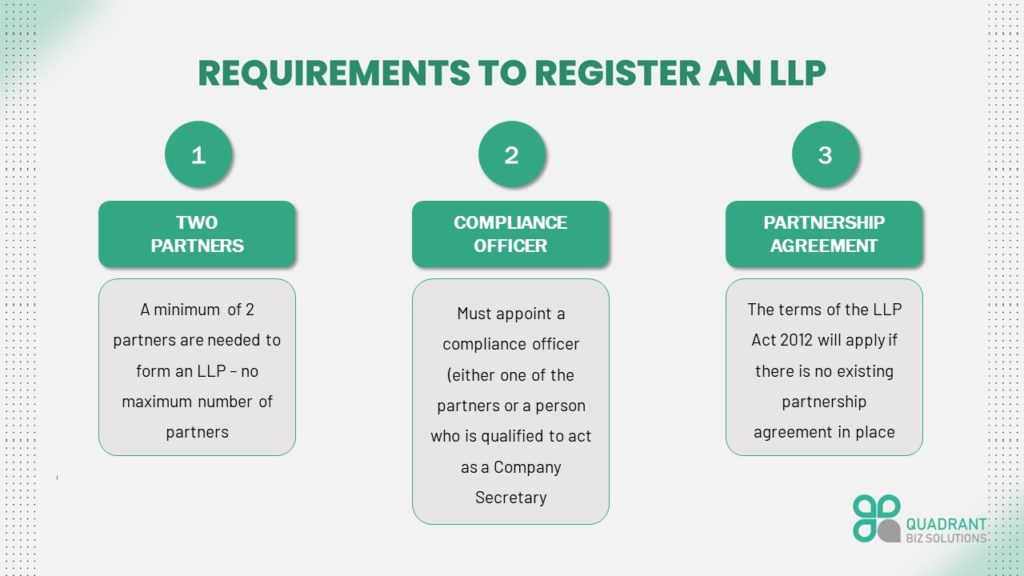 So, you're all set to start up your business! Your first important decision needs to be what type of legal entity to form. In Malaysia, one alternative to incorporating a Sdn Bhd company is to register a limited liability partnership (LLP). An LLP combines the characteristics of a private limited company (Sdn Bhd) and the traditional concept of a partnership. This makes it a great option for professionals, start-ups and SMEs looking to gain limited liability status whilst accommodating different partners for management flexibility.
This article looks at how an LLP differs from a Sdn Bhd, to help you evaluate which entity is more suitable for your business.
LLP vs Sdn Bhd
1. Incorporation Costs
LLP : An LLP can be incorporated for just RM1,500. This is because of the lower registration fee for forming an LLP versus a Sdn Bhd. Professional fees may also be lower for an LLP due to a less complicated process compared to a Sdn Bhd.
Sdn Bhd : A Sdn Bhd generally costs between RM2,500 – RM3,000 to incorporate.
2. Maintenance Costs
LLP : An LLP generally has lower annual maintenance costs because it does not require a company secretary or an annual audit. The requirement for tax services will be the same for both types of entities.
Sdn Bhd : A Sdn Bhd has higher maintenance costs because it requires an annual audit and the services of a company secretary. Audit fees vary depending on the size of the company, while company secretarial retainer and adhoc fees may range from RM1,500 per year, depending on the activities of the Sdn Bhd.
3. Administrative Process
LLP : Operating an LLP involves simpler administration processes. An LLP is required to appoint a compliance officer who is a partner of the LLP or an external company secretary, qualified under the Companies Act 2016. The compliance officer will be responsible for registering any changes in registered particulars of the LLP, and keeping and maintaining registers and records of the LLP. 
Sdn Bhd : Operating a Sdn Bhd involves more complex administration processes. Some decisions made by a Sdn Bhd may also need to be lodged with the Companies Commission of Malaysia (SSM) via submission of statutory forms, eg allotment of shares, change of principal activities, transfer of shares, etc.
4. Income Tax
LLP : Both an LLP and a Sdn Bhd are taxed in their own name. Although an LLP is a partnership, it is taxed like a company with a corporate tax rate of 17%.
Sdn Bhd : Sdn Bhds may enjoy more tax incentives than LLPs.
5. Liability
LLP : Forming an LLP offers limited liability to its partners whereby any debts and obligations of the LLP will be borne by the assets of the LLP.
Sdn Bhd : Limited liability is applicable for each of the directors and shareholders. The liability of the Sdn Bhd is limited to the share capital. 
Why Choose a Sendirian Berhad (Sdn Bhd)?
1. Credibility
A Sdn Bhd may be perceived as more credible and professional. Customers and partners tend to have more confidence in dealing with Sdn Bhds, and it is also easier for Sdn Bhds to obtain bank loans, should they be required.
2. Greater tax incentives
Tax incentives like Reinvestment Allowance (RA) and Pioneer Status (PS) are only available to Sdn Bhds or public listed companies in Malaysia.
3. Conversion into a public company
A Sdn Bhd can be converted into a public company to raise funds from the public. Public companies are the principal vehicles allowed for an initial public offering (IPO) or listing on Bursa Malaysia Securities Berhad.
4. Ease of raising funds
A Sdn Bhd can raise funds by issuance of shares in the company to individuals or corporate investors, while an LLP can only raise funds by approaching a partner for a loan.
Making Your Decision
Ultimately, the choice between incorporating an LLP vs a Sdn Bhd will depend on your business objectives. Be sure to evaluate all the pros and cons from the legal, administrative and tax perspectives before making your decision:
How much will it cost to form and maintain the entity?
How is the entity taxed, and how will that impact the owner's personal finances?
Will the entity meet the future needs of the business?
How flexible is the company structure for conducting future business and expansion
Quadrant Biz Solutions offers a one-stop shop for all your business incorporation needs. If you require assistance in forming an LLP or a Sdn Bhd, please feel free to contact us.