Project management tools are helpful organisational aids that are commonly used to coordinate business projects and tasks among teams. These tools usually offer a range of flexible customisations and features tailored to the users, such as ability to set deadlines, priority levels, assignees etc. 
Project management tools are useful to help improve team communications, to keep the team updated when progress is being made without the need of regularly scheduled meetings, and also assist in providing effective and efficient task distribution. The end result helps to make the most of business hours and helps to increase productivity and performance for the business.
We did a little digging and found a few tools that may be suitable for your business; some are also completely free to use: 
1. Trello

Trello is an uncomplicated and user-friendly platform that uses a card-based dashboard to display projects and tasks, replicating the kanban method, which is similar to listing down tasks on sticky notes or post-its on the wall. Users can list out tasks on cards, and organise them in different columns, for example, in progress, completed and future tasks. Users can also add tags, priority levels, and have a birds-eye view over ongoing projects on the dashboard. 
Like most project management tools, users can also integrate with existing platforms such as Google Suite and Slack. Trello also has a feature that enables automation, making certain routine work efficient. Trello is available as web and mobile applications on iOS and Android, and keeps your account synchronised across all devices. 
The free plan allows 10 boards per team with unlimited lists and cards, and an allowance of 10MB per file attached on the board, with some limitation on automation commands per month. There are two paid plans that unlock more features: Business Class, starting from U$9.99 per user per month, and Enterprise, with a range of U$7.38 to U$17.50 per user per month for organisations with 20 users and above. You can find a comprehensive guide on how to efficiently use Trello here.
2. Asana

Asana is another good management tool to efficiently manage workflows. It is useful to any role company-wide, from Marketing to Human Resources, and is an excellent tool for planning end-to-end work. Some good examples of collaborative work across the company that Asana can put in order would be identifying company goals, performing work requests and onboarding new employees. 
Users can effectively plan roadmaps, organise files, conduct cross-team communication and collaboration, streamline work requests, manage deployments and successfully take care of projects from start to finish. Integration with third-party applications and software such as Google Suite, Microsoft Teams, Slack and others also helps users synchronise and organise their work. Asana is available as mobile applications on iOS as well as Android.
It offers four different pricing plans: Basic (free forever), Premium (starting from U$10.99 per user per month), Business (starting from U$24.99 per user per month) and Enterprise (to be quoted upon contact with Asana). With just the Basic plan, users will have access to unlimited tasks, projects, activity log, file storage, as well as many other common generic features. Asana offers a 30 day free trial for all paid plans. 
3. Freedcamp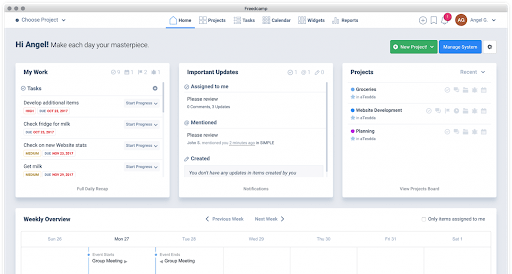 Freedcamp is an intelligent platform, compatible on mobile and desktop, that can help users to organise work and personal projects. The free plan features many practical functions: unlimited main and sub-task lists, tasks with adjustable priority levels, kanban and calendar view, discussion for ease to collaborating among the team, setting milestones, invoicing integrated with time tracking features as well as others. 
The paid plans include more extensive features, including integration with third-party applications such as Google Drive and Dropbox, reporting, white label and higher security. The prices per user per month for each plan are listed as follows: Minimalist plan at U$1.49, Business U$7.49 and Enterprise at U$16.99. Freedcamp offers a 14-day free trial for all users of the paid plans. 
4. Notion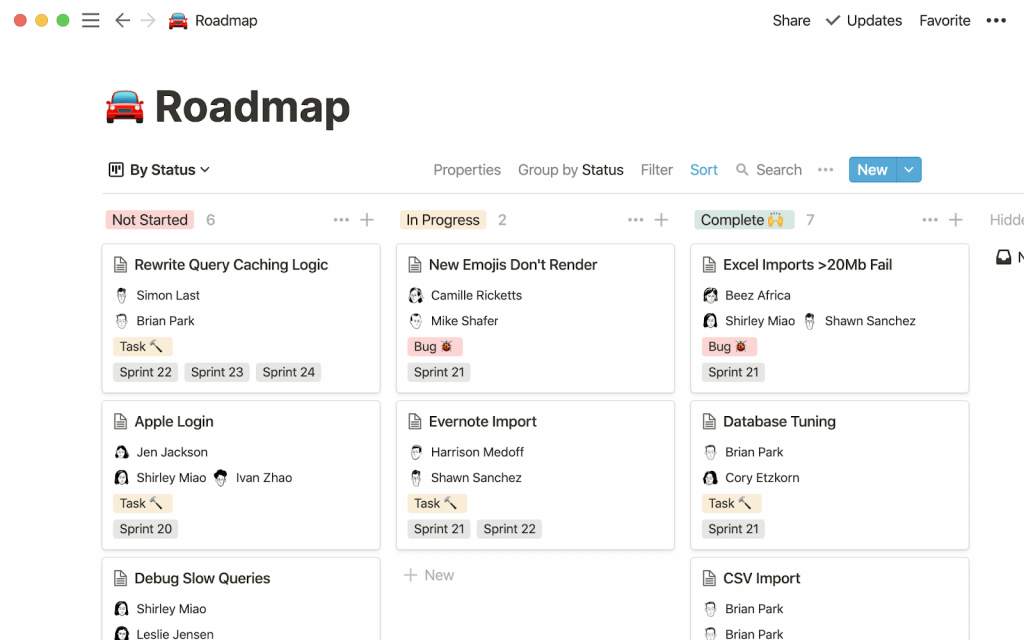 Another excellent application that runs on its website as well on iOS and Android, Notion is suitable for work, ranging from small teams and start-ups to enterprises, as well as personal use. It showcasts a range of options for users to customise database display, including table, board, list, calendar and media such as pictures and videos, that best suits your workflow. Users have the option for multiple database views. The application also provides a wide variety of templates that cover different aspects, such as design, education, engineering, human resources and more. 
Users can add sub-pages that are linked to a fresh canvas for more details and this helps users to be more organised with storing information. Users could also link existing files from Google Docs, Evernote and more. Notion users can use the application for real-time collaboration with teammates for maximum efficiency. 

Notion is free for any personal users and allows up to 5 guests. It also offers several subscription plans, U$4 per month for Personal Pro and U$8 per user per month for Team. For prospective users eyeing on the Enterprise plan which features such as SSML single sign-on, data encryption and granular permission levels, please contact Notion's sales team on its website.
5. Monday

Named after everyone's favourite, or maybe least favourite day of the week, Monday offers an appealing user interface and a balance between functionality and convenience. There is a range of templates covering different aspects of project management ready to be used, including project overview, project tracker, change request management, resource management as well as product roadmap. There are different customisable templates tailored to each department: Marketing, IT, Human Resources, CRM and Sales, and more. 
Users are able to automate routine work with features such as adding due dates, reminders and update notifications. Monday is also able to assist users to accurately envision projects by using Gantt charts and timelines. Users are also able to readily scan through the bigger picture of each project on the dashboard, and integrate projects to commonly used third-party tools such as Microsoft Teams, Slack, Adobe Creative and more. 
Monday offers a 14 days free trial for its users, after which it goes by a tiered pricing system starting from as low as U$8 per user per month.
6. Scoro

A cloud-based business management solution for professional and creative services, Scoro is suitable for project and work management, sales and customer relationship management, finance, as well as reporting work. Scoro users can effortlessly acquire full clarity over the entire business operation, including clients, projects and financial information. This helps to better execute projects and perform actions, elevate client satisfaction, improve financial performance, and more easily forecast revenue and resource needs. As with most project management tools, you can integrate your existing files and documents from third party applications such as Google and Outlook. 

Scoro offers a 14-day free trial for all users, and a range of different subscription plans for different sizes of team and company, starting from U$26 per user per month for a team of five. Scoro has a friendly onboarding team, who help to tailor the best package for users depending on their business needs, including services such as training, data import, setting up Scoro users' site and integrations.
7. ProofHub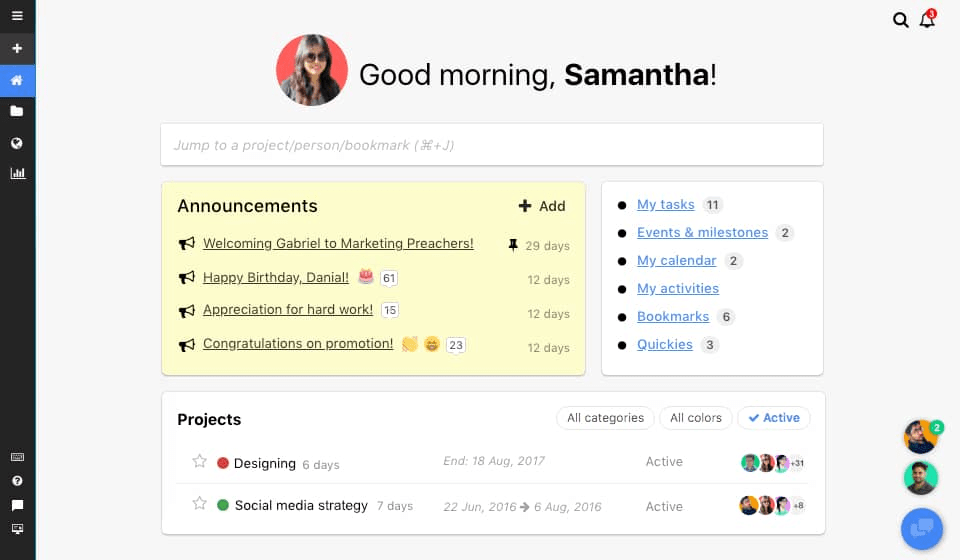 A centralised workplace for tasks lists, workflows, discussion, Gantt charts and more, ProofHub is helping over 80,000 teams and businesses all over the world. ProofHub is a cloud-based platform, available as a web or mobile application on iOS and Android. With an easy-to-understand user interface, ProofHub can help users to successfully deliver projects on time, keep track of billable hours with timesheet features, as well as activity logs, conduct customised collaboration among the team and more. Integration with third party applications such as Google, Outlook, iCal etc. are available. ProofHub also provides a space for targeted announcements and group chats for efficient teamwork.

ProofHub offers two subscription plans of fixed and not 'per user' prices, starting from U$45 per month for the Essential plan and U$89 per month for the Ultimate Control plan. Non-profits are entitled to attractive discounts, and all users are eligible for a 14-day free trial before subscribing to a plan. First-time users can read more on ProofHub on this page.
Find what's best for you!
From this short compilation, we hope you can find the project management tool that best suits your business and meets your needs. Running a business is challenging, but the challenges can now be organised into smaller bite-sized activities with the help of such project management tools. Let Quadrant Biz Solutions lift some weight off your shoulder when it comes to company secretarial and compliance matters. Contact us today!