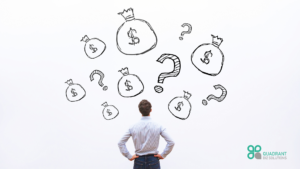 Capital is the lifeblood of business. Without capital, you cannot fund your daily operations and grow your business. Finding investors does not have to be difficult. However, given the recent volatility and market correction, entrepreneurs need to recalibrate their expectations for the challenges ahead.
While there remains a healthy ecosystem of angel investors, venture capitalists, family offices, strategic corporates and investor clubs, ready to put their money where the inspiration is, companies will have to be prepared for more rigorous due diligence, measured expectations around valuation, and the mental fortitude to survive with potential fewer resources.
How do we identify the right investor to invite onto our cap table? The right investor will not only provide funding but will also offer insight and expertise to help grow the business. When thinking about which investors you want for your business venture, there are a few things you should be mindful of.
Choosing the right investors for your business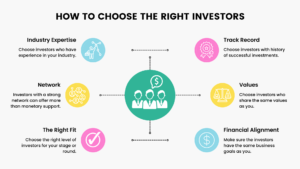 The right type of investor for your stage
One of the most essential steps is to make sure that you are searching for the right level of investors for your stage or round of funding. Depending on what stage your business is at in its development, some funding options may make more sense than others. If you are just starting out, you will probably need to conduct rounds with angel investors or friends and family first. Venture capitalists typically focus on high growth companies, while private equity players will focus on more mature businesses with stable cashflows. Corporates may be interested in investing in companies that have a strategic benefit to their existing businesses. Family offices also continue to play a significant role in the private equity / private debt ecosystem.
Industry expertise
Capital is capital. However, an investor that is able to provide strategic insight and industry expertise to your business is invaluable. Ideally, these investors will be able to value add with their industry experience and practical advice to help you approach the market in the right way and minimise possible pitfalls.
Network
Investors with a strong network will be able to assist you in finding partners, talent, advisors, and even other potential investors.
Track record
Track record is an important assessment metric, which includes the investors' ability to follow on in subsequent capital raising rounds; be able to navigate challenging circumstances or negative outcomes / down rounds; their execution of successful exits; and former experience in building their own companies.
Values
Choose investors who share the same values as you; they will more than likely have a say in the key decisions of your business. There is an abundance of capital in the industry today, but a shortage of good opportunities. Before bringing an investor onto your cap table, you should carry out discrete reference checks with the investors' portfolio companies to better understand their DNA and reputation.
Financial alignment
Financial objectives vary significantly from one investor to another. Some variances to be aware of include whether the investor requires a board seat, wants a minority equity stake with significant reserved matters or an outright majority. In the case of a debt investment, carefully assess the covenants that may be imposed on your company. Other nuances may be to understand fund mechanics and where they are in their investment cycle, keeping in mind that most venture capital / private equity funds need to exit their portfolio and return capital to partners within 7-10 years. By contrast, most family offices are flexible in their return mandate. It's important to be aligned with investors on what the expectations on returns are.
Where to find investors?
Now you know what to look for in an investor, your next step is where to find them. Here are three possible sources of investment for your business:
Friends and family
You may consider asking your friends and family to invest in your business or provide a business loan to you. Typically, a loan may be an easier way to raise money, as this means that you will eventually pay it back over time with interest.
An investment, however, means that your friend or family member would hold a stake in the company. Your investor will only receive money when the business issues dividends or the investor sells their stake in the company at a higher valuation than cost.
Professional network
Utilise your network: it is always easier to approach people you already know than complete strangers. Another powerful platform to explore when looking for investors and so expand your professional network is LinkedIn . It may not be the largest social network, but it is the most trusted and reliable source for professional purposes. Your connections on LinkedIn may be able to offer recommendations on who may be a potential investor or may even express interest themselves.
Online fundraising platforms
Online fundraising platforms have become highly popular, with sophisticated and accredited individual investors, angels, and even banks looking for new ways to deploy capital. The major platforms include peer-to-peer lending sites, which offer business loans, as well as donation-based, debt and equity crowdfunding portals.
The key is finding the right match for your business. Below are some of the more well-known equity crowdfunding platforms:
Spend the time, Trust your gut
Having said all of the above, once you've done the due diligence, make sure you spend time with the investor or the person leading the transaction to see if this is a relationship that you think has longevity and endurance. Choosing the right investor for your business is almost as important as securing the actual funding. Trust your gut and good luck.
To learn more about what businesses should look out for when fundraising, click here:
https://www.iterative.vc/post/what-to-look-out-for-when-fundraising Or if listening is more your thing, check out Tinmen's insightful podcast (WDKY i.e. What Doesn't Kill You) on this topic: https://tinmen.asia/wdky-cheatsheet-1-founders-evaluating-investors/