Most people are well aware that finance plays an important role when you are running a business. If you are not one of those people, then consider this your cue!
Much as there is nothing wrong with learning new skills to become an astute business owner, not everyone can afford to spend extra time or money to learn accounting from scratch, especially when it is complicated and there are multiple statutory rules to abide by.
However, it is still important to organise your business accounting entries and keep a record of your business' income and expenditure. Here is where accounting tools come in handy. Many of these accounting software is easy to use and helps save time, improve efficiency and reduce human error. Most of these accounting solutions are able to generate reports almost instantaneously, allowing business owners to make faster, more informed business decisions.
1. Financio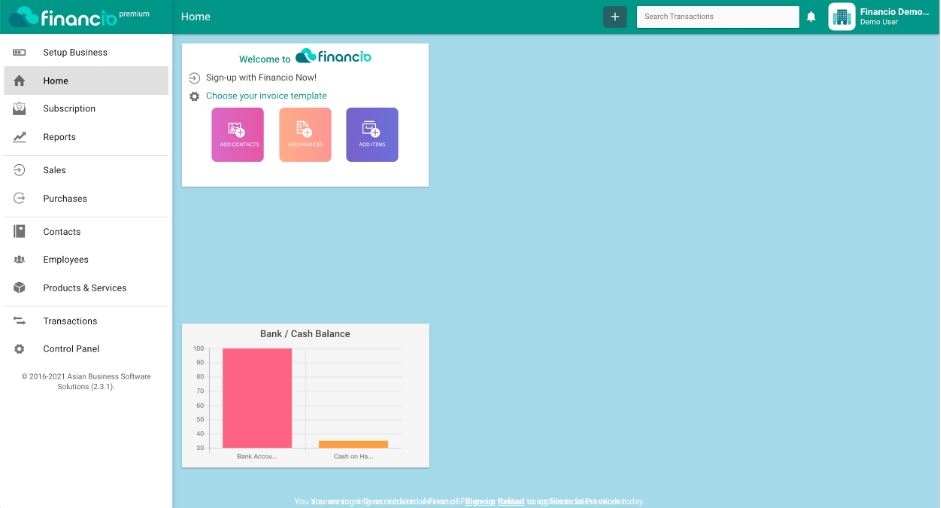 Financio is a cloud accounting software, developed by ABSS, previously known as MYOB. Web-based, there is also a mobile app named CONNECT available over Android and iOS. The user interface is built to be easily understood by small and medium enterprise (SME) business owners and non-accountants.
The software features the following functions: automatic generation of accounting entries and invoices for sending to clients or suppliers via email; tax ready accustomed to tax files as recommended by Royal Malaysian Customs; integration with third party applications such as JomPay, Kakitangan, and banks; unlimited users with flexible permission settings; live back-up in a highly secured data centre. Prospective users are offered a 30-day free trial, users are charged at RM32.95 per month. For more details, contact Financio via their contact page.
2. Zahir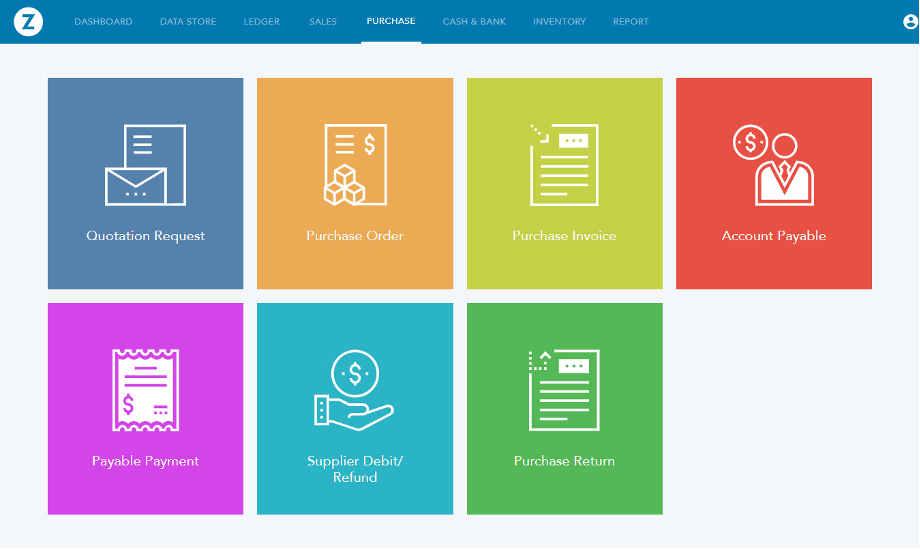 Zahir Online is an online accounting system with cloud computing method, designed to be used by non-accounting professionals. Available as a web-based application, and via mobile app, there are three editions of Zahir Online tailored to different tiers of users: Zahir Simply, Zahir Essential and Zahir Professional.
Zahir Simply
Zahir Essential
Zahir Professional
U$9 per month
– Single user
– Realtime dashboard
– Inventory management
– Sales & purchases management
– Cash & bank
U$39 per month
– 3 users
– Zahir Simply
– Fixed assets 
– Bank reconciliation 
– Departments Projects
5 users 
– Zahir Essential 
– Production 
– Procurement
– Consignee
– Multi-currencies
– Recurring transactions
Zahir Online designed to help business owners organise sales and purchase documents and data, monitor account receivables and payables, record inventory transactions for multiple branches, as well as make informed decisions in a short amount of time by viewing real-time reports generated by the system based on the company's available data. A 30-day free trial is available for anyone interested in using Zahir Online. Zahir also offers Zahir Accounting, an alternative solution tailored to large corporations. Licenses and a free 12-hour training programme are provided for Zahir Accounting users.
Zahir's contact details are as follow:
Tel: +603 2202 7409
WhatsApp: +6011 3921 5662
Email: malaysia@zahiraccounting.com
3. SQL Account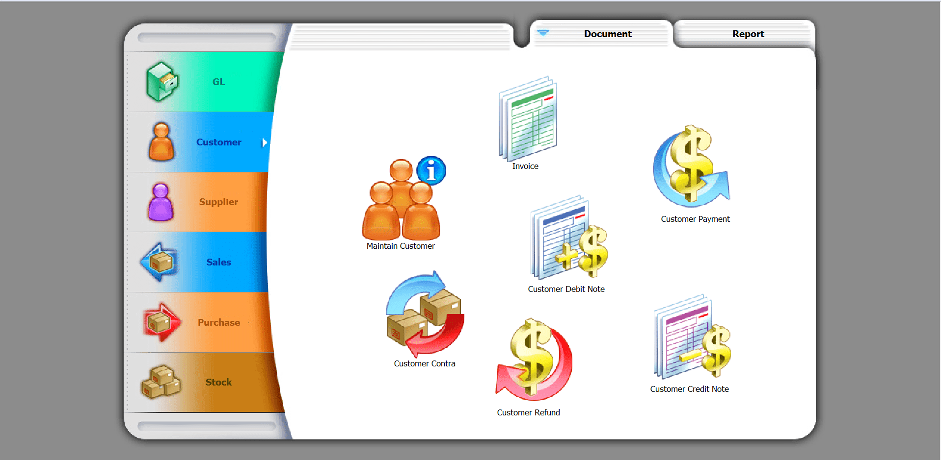 SQL Account is a comprehensive business accounting software suitable for small businesses as well as larger organisations. Available as an online accounting platform, it can also be used on-premise for large organisations.

SQL Account offers two solutions:
(1) Accounting & Invoicing: RM39.50 per month and
(2) Accounting, Invoicing & Inventory: RM54.50 per month
These are prices adjusted after a government subsidy of 50% for both solutions.
Aside from general ledger, other features worth highlighting include a WhatsApp integration that allows users to swiftly send business documents to clients or suppliers, AI selling price assignment for multiple pricing of products, unlimited users with flexible permission settings, and automated sales commission calculations. Users are able to customise document and report formats, set credit limits and controls for clients and suppliers, and also calculate? SST relative to the business.

The Inventory solution features stock reorder reminders, barcode and serial number generation, as well as multiple warehouse management. SQL Account also provides unlimited hands-on free accounting software training for users.

SQL also offers other solutions, such as Point of Sales system and Payroll. You may find their contact details as below:
Tel: +603 7890 1299
Email: sales@sql.com.my
4. Bukku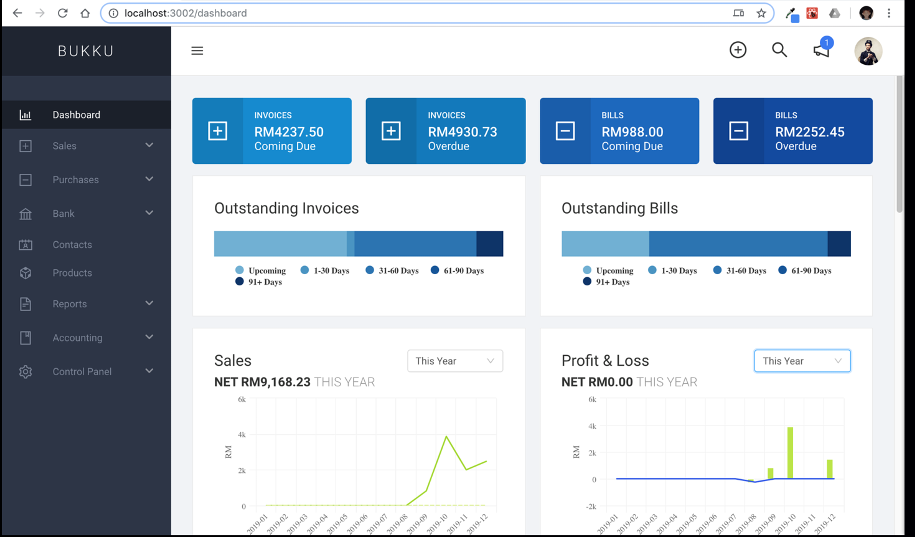 Bukku offers 5 different solutions:
Bukku Lite (Invoicing software)
Bukku Premium (Small business accounting software)
Bukku Verticals (Accounting software)
Bukku Platinum (Accounting software and Bookkeeping services)
Bukku Worry Free (Accounting software and Accounting tax services).
The solutions are offered at different prices, ranging from RM59 to RM499 per month.
Users can generate invoices digitally, produce reports, obtain an overview on business performance figures, set up recurring instructions such as invoices, and enable multiple users with flexible permission settings. A feature that stands out is a digital shoebox, whereby users can dump receipts via WhatsApp or email. Other premium features include automated payment reminders, unlimited users and multiple currencies. Bukku also offers a free trial for all prospective users. Contact Bukku here or at +6019 215 1510.
Your Digital Company Secretary
Here at Quadrant Biz Solutions, other than company incorporation services, we also provide digital company secretarial services, led by certified company secretaries with over 25 years of experience. We also have an extensive network of partners in relation to company compliance matters. We digitise the work of a company secretary using a digital business process management tool that allows digital tracking, especially on repetitive manual tasks.
Let us provide you with the best advisory service for the most suitable, efficient, and effective approach to incorporating your company and taking care of compliance matters, so that you can focus on running and expanding your business. Speak to us here today!